Before going out to The Marine Parks, I had 3 days in Sharm el Sheikh where I revisited The Tiran Strait and Ras Muhammed.
After that I flew to Hurgada and boarded "M/Y Miss Veena" laying at the jetty in front of Hotel Mariott. The boat is a nice 4 storeyed spaceous diveboat. We were 12 divers and 1 divemaster and we had a lot of room.
The big boat in the exact center of the Photo is "Miss Veena". After waiting 9 hours for the bureaucracy to finish our permits, we steamed off in the afternoon and arrived at The Brothers the next morning.
From there we went southward to Daedalus, Rocky Island, Zabargad near the Sudanese border, then turning north to St. John area, Fury Shoal, Dolphin Reef, Elphinstone and at last the Quseir and Safaga area.
All in all 12 days and 31 dives.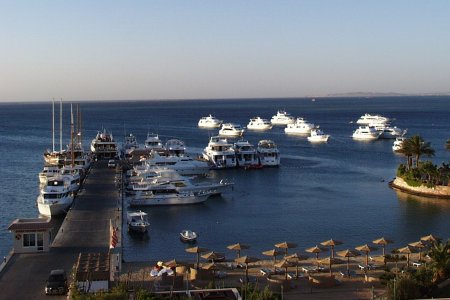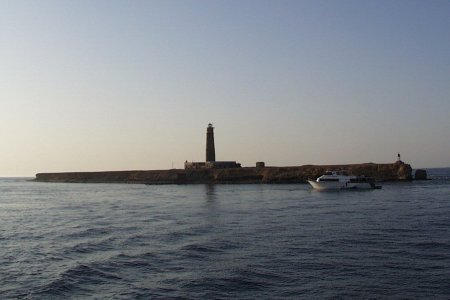 The Marine Park islands in the middle of The Red Sea are small, flat and uninhabited - some with a lighthouse on top of it. This goes for The Brothers, Rocky Island and Daedalus, whereas Zabargad is a quite large and mountainous island, yet bare, scorched and uninhabited like the others.
They are in fact oversized pinnacles rising up from the deep and thus beeing a hang-out for the big game. Whatever big game fish swimming about in The Red Sea, might be seen here.