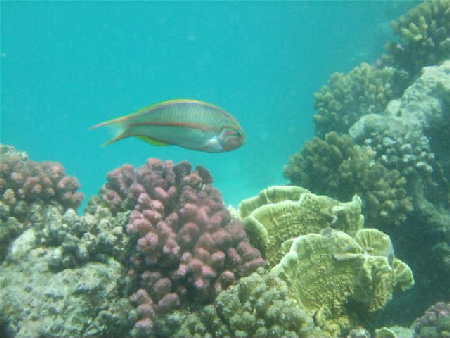 Jeg kom her egentlig for at filme delfinerne ude på Dolphin House; men på grund af min egen tåbelighed, lykkedes det ikke.
Da vi skulle ud, kom der nogle egyptiske mænd fra Cairo i deres store biler medbringende koner og småbørn.
Da vi så delfinerne nægtede jeg at følge den larmende flok kvinder og børn...og næste gang var delfinerne væk (:o(
Sig mig, er det en divecamp eller en børnehave???
OK, jeg filmede så alt det andet - se revet her.

Abstract: The main purpose of the trip, was to film the dolphins at Dolphin House, but because of my own stupidity I missed that.
Some egyptian men in big cars came with their women and children and invaded the boat.
When we saw the dolphins, I refused to go with that noisy crowd...and afterwards the dolphins had left (:o(
Well, is it a divecamp or a bloody kindergarten ???
But I filmed the reef - look here.